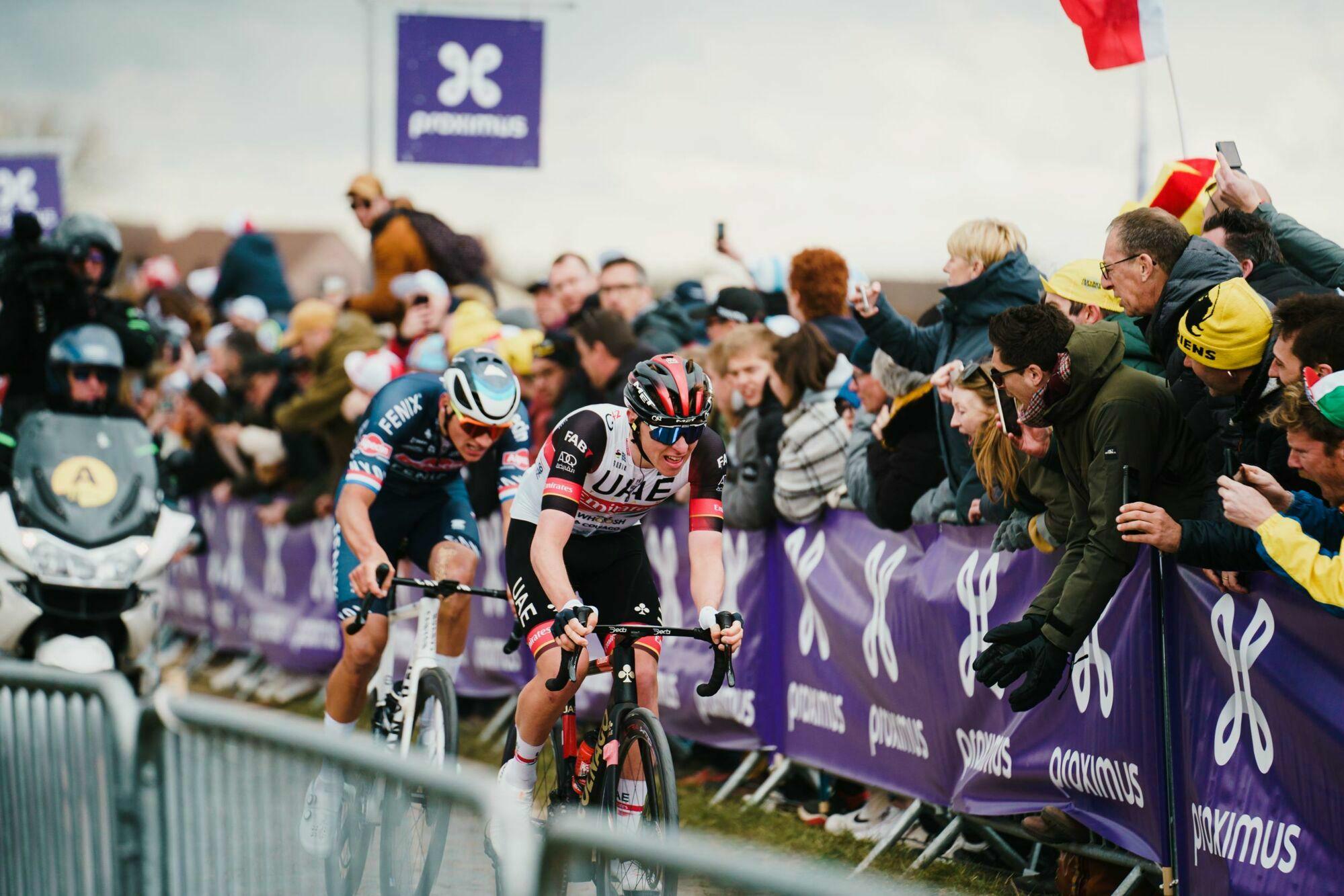 Tadej Pogacar will be at the start of Tour of Flanders and Dwars door Vlaanderen in 2023
Tadej Pogacar will be at the start of Tour of Flanders and Dwars door Vlaanderen in 2023
Tadej Pogacar will target Tour of Flanders next spring. The Slovenian announced this at a press event during a team camp with his team UAE Team Emirates in Alicante. Ahead of Flanders' Finest, Pogacar will also start in Dwars door Vlaanderen.
Tadej Pogacar was at the start of Tour of Flanders for the first time this year. Although the Slovenian had little experience of the Flemish cobbled climbs, he immediately finished fourth. After a strong acceleration on the Oude Kwaremont, he wasn't able to beat Mathieu van der Poel, Dylan van Baarle and Valentin Madouas in the sprint.
That fourth place clearly tastes like more, as we can expect Pogacar at the start of Flanders' Finest again in 2023. "The Tour of Flanders will be one of my biggest goals for 2023. It is the most chaotic and the most stressful race of the year, but it is also the race with the best atmosphere. I love it", the Slovenian told Nieuwsblad.
Pogacar is looking forward to Tour of Flanders with ambition. "I don't know if winning is realistic on my second participation, but this year I was already close. Maybe I will have to keep trying to win Tour of Flanders until the end of my career. Even if you don't win, it gives a great feeling to be able to compete with the best riders. I can't wait."
To prepare for Flanders' Finest, Pogacar will also start in Dwars door Vlaanderen on Wednesday 29 March 2023. The Slovenian took part in the classic for the first time this year and finished the race in tenth place.