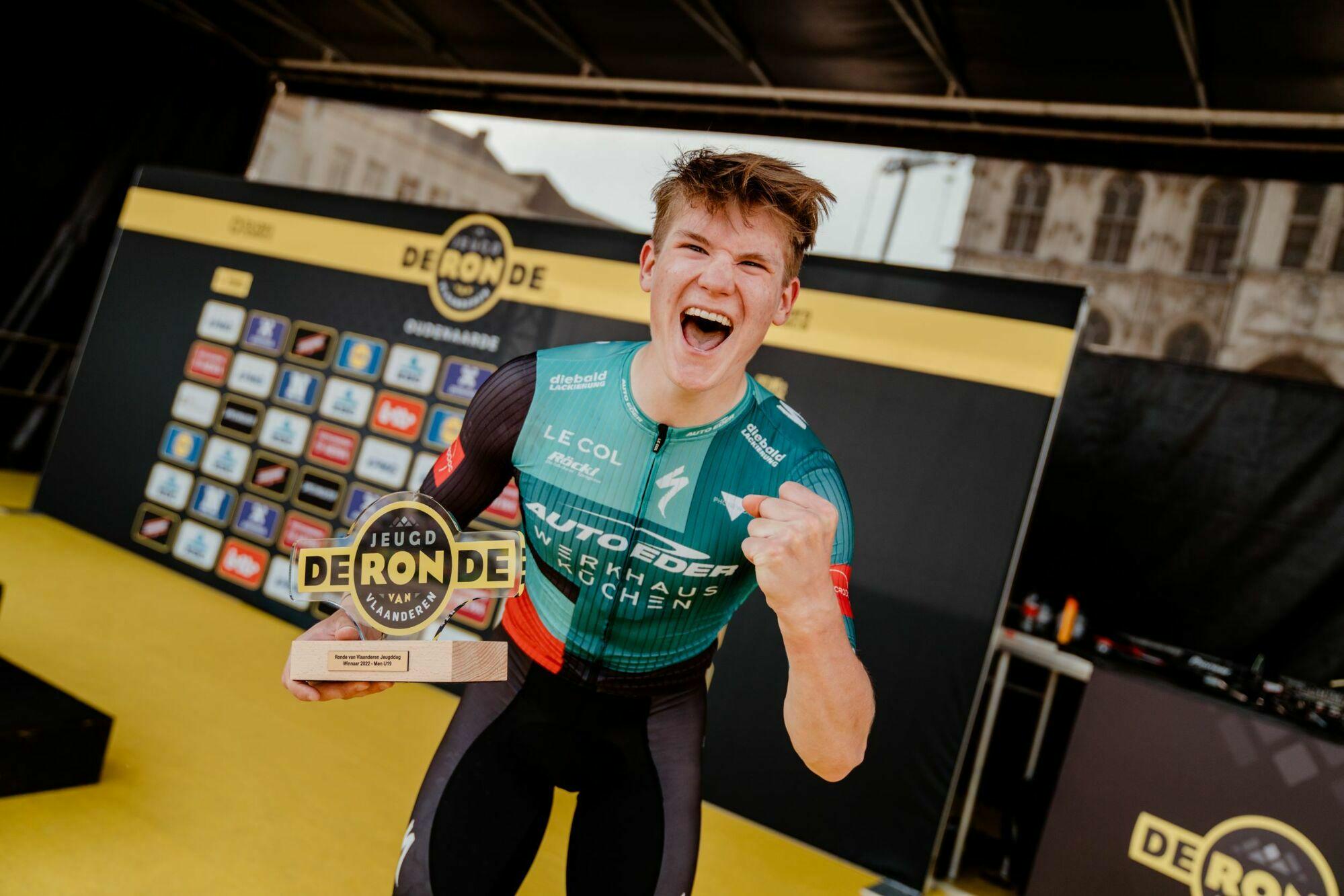 Estonian Romet Pajur is the strongest in a sprint with 5
Estonian Romet Pajur is the strongest in a sprint with 5
The strong Estonian Romet Pajur won the final race of the Tour of Flanders youth day. He outsprinted a depleted front group of five and won the Tour of Flanders for juniors.
The last start of the day was at a quarter to four for the junior men. A peloton of no fewer than 149 riders set off from the Grote Markt in Oudenaarde for a 113.9 km race. In it they did some passages of the Achterberg, Berg Ten Stene, Wolvenberg, Jagerij, Kerkgate and the Holleweg.
The first attack of the day was made by Pablo Bonilla Techera. The Uruguayan was joined by four others a little later. The leading group of five made its first pass at the finish line in Oudenaarde after 14 kilometres, with about 30 seconds advantage .
In the third lap, a group of five broke away from the peloton. The five were able to close the gap with the leaders on the Achterberg. In the penultimate lap a group of five riders managed to make the crossing to the front group which included some high-profile names such as Estonian Romet Pajur, Frenchman Noa Isidore and Dutchman Menno Huising.
The breakaway splitted and when the final lap came around 5 leaders remained, who would later sprint for the final victory. Estonian rider Romet Pajur was the strongest in the sprint and beat his breakaway companions Menno Huising (second) and Noa Isidore (third). The Estonian finished second in Paris-Roubaix earlier this year.